The Lehmanns of Sparrow Lake
Edited and annotated by Jim Stanton
In the fall of 1862, a young German settler, Adelbert Lehmann, who had purchased and begun clearing 200 acres of land on the northeast section of Sparrow Lake, returned to his home in Oldenburg, Germany. He was a young man on a mission, to find a German wife for himself, and he was quickly rewarded. He proposed marriage to Kathinka Bruch, a well-educated young woman who had spent five years in Belgium as the daughter of the royal physician to King Leopold. He was 30, she was 29 when they were married in April 1863, and returned almost immediately to Adelbert's land in Muskoka.
During their first summer together in 1863, Kathinka wrote a series of letters to her parents in Oldenburg, whom she missed greatly. Alongside Susanna Moodie and Catharine Parr Traill, Kathinka Lehmann holds an important place among the pioneer women who not only survived the rugged life of 'roughing it in the bush', but found time to record the experience for posterity. Here are some excerpts from the letters of 1863: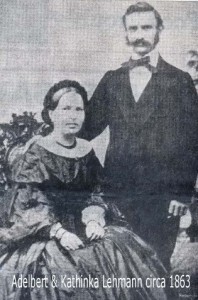 A New Home and Furnishings
"All our baggage arrived with the contents intact…The secretary is such a dear and useful piece of furniture…We put the chest of drawers and the secretary here in the shanty, together with the other essential pieces of furniture, all the other things…we have stored in the barn. there we are also keeping six fine cane-seat chairs and one dozen comfortable wooden chairs, black with yellow design, a very nice cooking stove with a complete set of pots and pans, a very sweet stove for the living room, two rocking chairs, and many bottles and jars to use for preserving and making butter…"
"When we get into our new house, things will become quite a bit easier…The small room in which we live now, and the cooking stove under the outside sky makes things difficult. The beautiful new range with 7 doors and 7 holes and a very excellent bake oven which produces beautiful bread is already in the annex in the new house and I do my baking there…"
"Now I have the new mattress I sleep much better. At first we had two single straw ticks on the double bed-stead, and these were not very good to sleep on. I have made another straw bag…on top of this I have laid the mattress and filled the empty space with a feather-tick and everything is perfect…"
"Three weeks from now a carpenter who just arrived from Germany will come to the house and build us cupboards, tables and whatever else we need…I cannot tell you how I am longing for the house to be finished, it takes so very long…"
Cows
"It is the greatest pleasure to have one's own household, specially when one has a cow…"
"I have just returned from milking the cow, which we let roam the woods now that she is used to us; this way we can save the grass for the winter…Adelbert wants to try and buy some more cows again, they are very hard to get. When we were in Orillia he went out into the country with the strong hope of finding some, but he was unsuccessful. The cow which we have now will be taken back in the fall, because she doesn't give enough milk. We will keep the calf for $5 and we bought another one for $4.50…"
"I am getting more used to everything all the time and having the cows helps a lot. They are a constant delight, and the one we bought first I almost love. You should see how she comes running when it's time for milking (which by the way I have learned to do very well), she literally comes leaping. She comes quite regularly in the morning and evening to the spot by the lake where I milk her…"
"The cows and the whole milk business are my continued delight. At the beginning I used to make some cream cheese…now I have 22 small round cheeses in the attic to dry…I have had to stop making cheese again, unfortunately, as we have to give all the sweet, skimmed milk from both cows to the younger calf…"
Friends
"It is a great joy to feed (Adelbert's friend, John Everbeck), his old housekeeper certainly doesn't spoil him and so he loves everything I offer him. Now he has decided to go to Germany this fall …and return here in the spring with his young bride…"
"I don't even like to think of Everbeck's departure. I am afraid we will both miss him very much this winter. He is with us so frequently and I like him better all the time. He is a very pleasant conversationalist and true friend…Everbeck likes it in our home too. He often comes after dark, and after we have talked till about 10 he sleeps in the barn or in the new house on top of the sawdust. In the morning he has a good cup of coffee and then he leaves…"
"(After dinner) we went for a boat ride on the beautiful lake in perfect weather. We rowed over to the Roehls, who greeted us most joyfully, and they offered us coffee, and bread and butter. The young wife used to work as a housekeeper and she knows all about making butter and cheese. She seems to be a most efficient housewife. We are very happy to have them here. It is of the greatest importance here to have pleasant neighbours…"
"Last week I spent two very pleasant afternoons with the wife of our mason picking blueberries on the rocks around the idyllic lake. You have no idea how lovely it was and the bushes were so full that I did not want to stop picking. I preserved 7 jars for the winter and the rest I am drying…"
Adelbert's Love
"We are living so happily together and we love each other so much, as two people possibly can love. I hope that, with the help of this great love, it will be come possible for us to make for ourselves a comfortable, enjoyable life…"
"Adelbert does his very best to make everything easy for me. He wants to see me happy, else he could not be happy himself. You would be surprised how well we get along. Let's hope it will always be this way…"
"Evenings, after the work is done, Adelbert sometimes rows me around on the lake for a bit. This is most delightful during the full moon, as it was last week. If we get all our work done earlier than usual, we take along the fishing pole and sometimes we are lucky and catch a good fish for our next dinner…"
Editor: It would be nice to report the Lehmanns lived 'happily ever after' in their new home and community. Such was not to be. They did stay at Sparrow Lake for 8 years, and Kathinka eventually bore 5 sons. The eldest, Adolph, arrived in December of their honeymoon year. But a combination of circumstances, including a devastating fire in the forest around Sparrow Lake which destroyed much of the beauty that Kathinka Lehmann loved so much, persuaded the Lehmanns to leave Muskoka and return to Germany in 1871. In 1876 they came back to Canada and bought farm land along Lake Couchiching, where Maple Drive in Orillia is now located. One son died in Germany, one stayed in farming, the other three scattered across Canada to follow careers in chemistry, medicine and teaching.
References: Excerpts from the Letters of Kathinka Lehmann, The Orillia Packet and Times, February, 1969. Geraldine Coombe: Muskoka Past and Present, McGraw-Hill Ryerson, 1976.