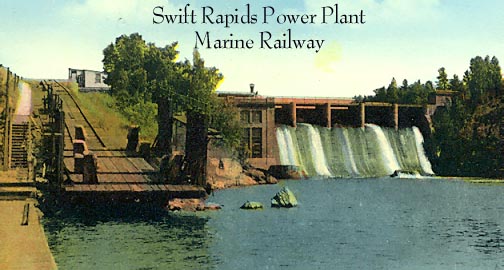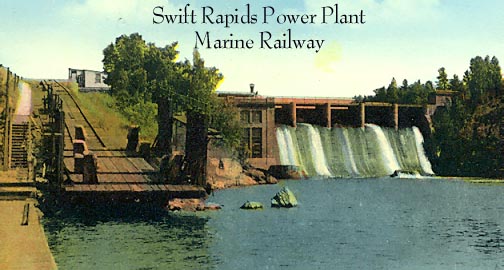 Swift Rapids: 1900 to 2000
by George G. Page
Construction of the Swift Rapids dam and power station was started in 1915 by the Orillia Water Light and Power Commission to replace their original power station 2.5 km upstream at Hydro Glen. The original structure contained the foundation for a lock, which was not completed. From 1919 until the present lock was constructed in 1965, boat traffic was ferried over the dam via marine railroad.
The first superintendent at "The Swift" was George Page. He moved to The Swift with his wife and five children from Hydro Glen where he had worked on the construction of that facility in 1899 and had been the chief operator there. George retired in 1947, but remained at The Swift until 1950. Two of his daughters and one of his granddaughters married power-station operators, and their families continued to live at The Swift into the 1980's.
Supplies and mail came to Hydro Glen by boat from Sparrow Lake or overland from Orillia in the winter until the railroad opened in 1906. After 1906, supplies and mail came by rail. In 1912 Hydro Glen was designated a Post Office with George Page as the first Post Master. From the mid-1920's to the mid-1960's, Kelly's general store and post office operated at Hydro Glen with Rose Kelly as Post Mistress. In the mid-1960's, train service to Hydro Glen stopped and mail delivery began directly to The Swift by bush plane. From then until delivery was discontinued in 1985, the Post Office was run by a daughter and then a granddaughter of George Page
Initially the power station  required considerable personnel, which resulted in a community of eight single-family dwellings including two families of marine railroad operators. In addition, there was a boarding house for unmarried operators, a barn, a covered skating rink, several boathouses, storage buildings and a school. George Page was instrumental in establishing elementary schools at Hydro Glen and The Swift to serve the children of the operating personnel.
The gradual introduction of automation eventually converted the power station to remote control, reducing onsite personnel to just one person, and also Parks Canada lock personnel no longer lived permanently onsite. The reduction in personnel resulted in the school being closed in 1960. The few remaining children were then transported to Severn Falls by boat or by snowmobile in the winter. Only six houses of the original community remained by the turn of the century. Two houses are now used as summer cottages, two sit empty, one is used by the remaining power-station operator and one is used only in summer by a lock operator, a great-granddaughter of the original pioneer, George Page.