First Hamlet School – Thomas Henry Nichols arrived from Scotland circa 1875 and married Susannah Bagley. They settled on the Sparrow Lake Road in Severn Bridge, where they donated land to establish St. Luke's Anglican Church and Cemetery at Hamlet, Ontario in 1877. There was also a log barn on their farm property, which was used for a short time as a school before the log school was built on the 13th concession for S.S. no. 11 circa 1885. From notes by Frank Stanton. [There is no known picture of this log school.]
Bennett Point School – The second official school for the area (S.S. # 11) was located on Peninsula Point road near the old Bennett farm property.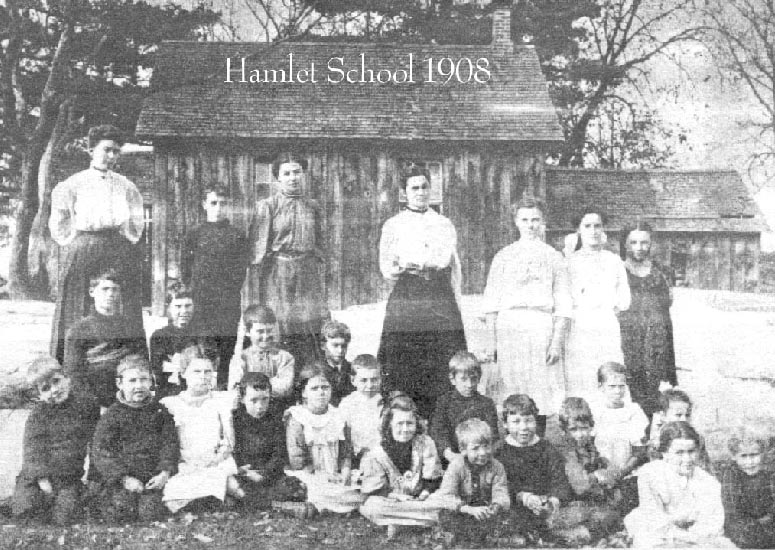 Back row- L to R – Teacher Alice Burton, Charlie Bagley, Florence McMaster, Laura McMaster, Sadie Richardson, Olivena St Dennis, Minerva Boyd.
2nd Row – Bill Baker, Henry Nichols, Albert Nichols, Orville Boyd.
3rd Row – Cornwalis Hope Smith, Earl Roehl, Velma Boyd, Weir Bagley, Bertha Nichols, Owen Boyd.
Front Row – Edna Clipsham, Ed Stanton, Alfred Hope-Smith, Orville Stanton, Stanley Hope Smith, Irene Nichols, Annie Bagley, Alma Clipsham, Myrtle Roehl.
Hamlet School – The Hamlet School circa 1940 had two entrances with large cloakrooms. Girls were on the left and boys were on the right. It was a one-room school with grades from 1 to 8. A Christmas concert was produced by the students each year, complete with Santa arriving at the end. The building was later converted to a private home and still stands.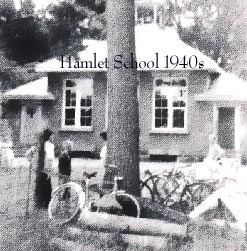 Students posed for this Hamlet School photo in September 1938. Margaret Read was teacher.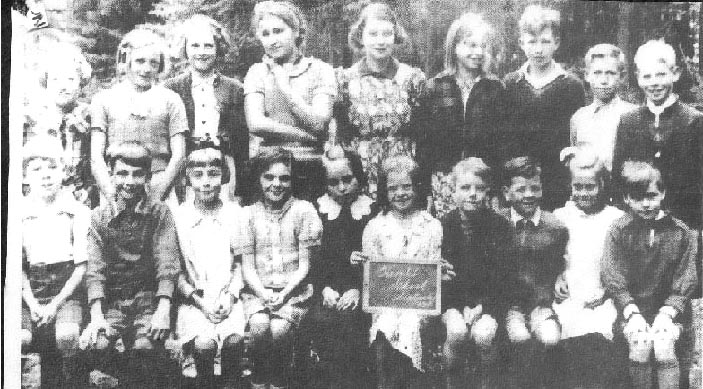 Back row – Left to right, Violet Dawe, Jean Bagley, Betty Whiteside, Hazel Grant, Teacher Margaret Read, Eileen Monahan, Ted Bagley, Carl Johnson, Tom Stanton ;
Front row -Left to right, Ken Nichols, Norm Stanton, Elaine Bennett, Betty Bagley, Nellie Dawe, Clara Monahan, Jamie Whiteside, David Stanton, Lila Nichols and Bill Dawe.
Students posed for this Hamlet School photo in 1945. Muriel Maguire was teacher.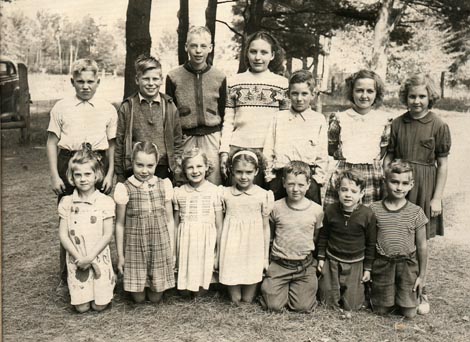 Back Row- L to R – Richard Stanton, Harry Broome, Jim Stanton, Marilyn Miller, Bill Van Kralinger, Shirley Willet, Eva Morrison.
Front Row- L to R -Shirley Ann Nichols, Shirley Stanton, Pauline Sykes, Ann Louise Miller, Ron Stanton, John Stanton, Jim Maguire.