Clipsham Beginnings at Sparrow Lake
by Bill Clipsham
Michael Clipsham Sr. was born in Billinghay, Lincolnshire in 1807. He was married in 1834 to Mary Roberts in Gautby, Lincolnshire, the town where Mary was born in 1809. Little is known of their life in England. Of their 6 surviving children, the eldest two (Mary and Michael) were born in or near Sheffield, Yorkshire, the next three (Martha, John & Thomas) at Market Rasen, Lincs., and the youngest (James) at Louth, Lincs.
In English records, Michael Sr. was a commercial traveler, blacksmith, and/or edge tool hardener. These occupations were how he earned his living. But he was also a Methodist lay preacher, and this was his true calling. Methodist preachers often moved to wherever they were needed, so probably this is why the family moved several times.
The family story is that Michael Sr. was such a vehement teetotaler that he offended certain townspeople so much that they threw him in the cooling vat of his smithy. As a result, he contracted pneumonia and had poor health for the rest of his life. Since Lincolnshire had a damp climate, the family emigrated to Canada in 1853.
The first winter in Canada was spent in Montreal, then 2 years at Chambly, Quebec. They were then directed, presumably by the Wesleyan Methodist church, to Churchville, near Brampton, and Michael preached on the Brampton circuit. After only 15 months there, Michael Sr. died in December 1857, leaving his wife Mary with the six children.
The eldest son, Michael, at the age of 18, became the chief breadwinner of the family. In the fall of 1861, he moved the family to Meadowvale, where he opened a blacksmith's shop with a younger brother as apprentice and helper. In 1864, Michael Clipsham married Charlotte Sanderson in Meadowvale.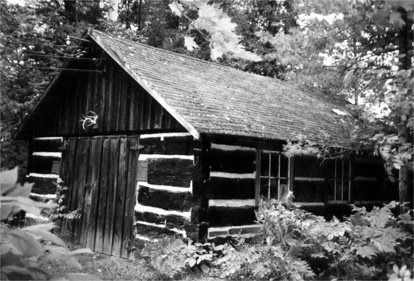 Michael's eldest son Wesley Clipsham, born in Meadowvale in 1865, wrote, about 1948, in some reminiscences of the early days:
"My father and his brother-in-law Charles Sanderson had made an exploring survey of the country in the autumn of 1864, walking from Washago to the cataract of the north branch of Muskoka River, around which the thriving city of Bracebridge now stands.
One reason they did not go farther was dislike of the style of bridge over the rushing torrent–the trunk of a pine tree with its ends supported by the rocky shores.
In the spring of 1865, the Sanderson and Clipsham families left Meadowvale, west of Toronto, and rode the northern railway to Belle Ewart at the south end of Lake Simcoe, where they took a boat to the Port of Washago. Four miles north of Severn Bridge, they chose lots on opposite sides of the Muskoka Road (now 'King's Highway' No. 11.)
My father, who was a skilled iron worker and horse-shoer, built a little shop by the side of the road. In the first years, his forge fuel was charcoal, and one of my earliest recollections is of the piled-up logs smoldering beneath their covering of earth. The pile had to be watched day and night, for if a break occurred in the earthy covering, flames would have devoured the charcoal. After the railway reached Orillia, 'stone coal' could be hauled out, and being costly, was used only for special jobs."