George Page was born in 1874 in Maidenhead, England. At age fifteen, after an altercation with a teacher at school, he ran away from home and stowed away on a ship to the Mediterranean Sea. He worked on various ships for a year before arriving in Canada in 1890, where he got a job with Gillies Lumber Company near Ottawa. After working there for a few years, he moved to Severn Bridge, where he ran his own utensil repair business and worked in local lumber camps and lumber mills.
In 1899, when the industrial engineer P.H. Patriarche was preparing a tender to construct a hydro-electric station at Ragged Rapids, he hired George Page to paddle and portage him through Sparrow Lake and down the Severn River to examine the construction site prior to submitting his proposal. George Page must have made a good impression on the trip, because this fortuitous opportunity changed his destiny. Because Page had mechanical aptitude and a reputation for reliability, Patriarche put him in charge of the generators at the new Ragged River Power Station built in 1901. George Page also ran a boarding house for employees, and during seasons when the Severn River was impassable, he walked  a bush trail to Port Stanton 14.5 km away for supplies.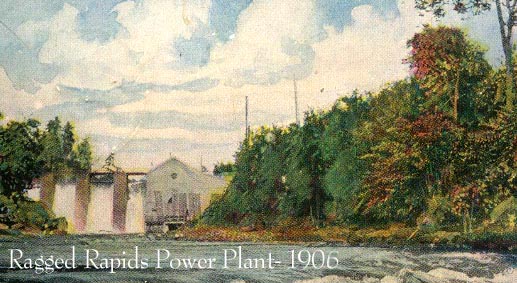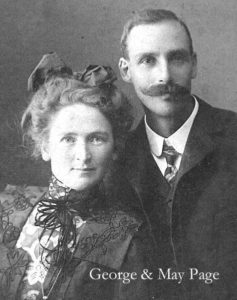 In 1902, George Page married May Blackwell of Severn Bridge, and they raised five children: Jack, Jim, Georgina, Katherine, and Grace. In 1912, when the youngsters became old enough for schooling (along with the local Jaricks family, also with five children), the Orillia Water and Light Commission built a schoolhouse at the new community. They hired a teacher, Hazel Boyes, and appointed George Page to manage the school along with his other duties, which included his position of postmaster at the new Post Office named "Hydro Glen." During some blasting work at the Ragged Rapids power plant, George Page (while watching from home at a "safe distance") was struck by a missile of concrete, permanently crushing about a two-inch diameter piece of his skull. He lay in a coma for a month until a surgeon from Toronto arrived by happenstance on a canoe trip and performed an operation on the kitchen table to remove broken bone fragments. Despite losing the sight in his right eye, George Page recovered full health and became Superintendent of the new hydro-electric facility at Swift Rapids until his retirement.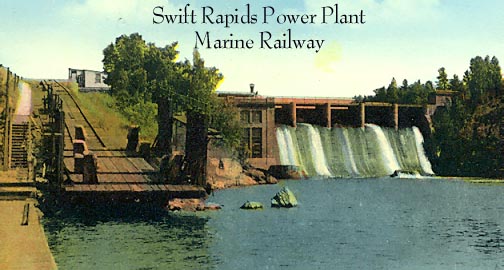 In the early morning hours of March 6, 1920 at 3:20 a.m., Superintendent George Page received a telephone call from a Swift Rapids employee, Bob Ironside,  pleading for assistance and claiming that another employee, Fred Gilbert, had shot him. Ironside was rushed to Hydro Glen station by horse and sled and taken to Orillia on a freight train, where he died the next day.  With no witnesses, no motive, and no weapon, Gilbert was acquitted at his subsequent court trial. Years later, a scuba diver recovered the barrel of a gun from the bottom of the Severn River, but the murder mystery of Swift Rapids remains unsolved to this day.
(Compiled by Steve Stanton, 2018, from SLHS archives with credit to "Severn River," by James T. Angus, Orillia, 1995.)