John Franklin was born in England on Christmas Day in 1828 and came to Canada in 1863 with his wife Annie (Kellam). He worked in Orillia as a stone mason, and in 1876 he purchased the property originally cleared by Adelbert Lehmann on the north shore of Sparrow Lake. John Franklin farmed this rocky land for many years, raising sheep and keeping horses. During the winters, he would take a team of horses to work in local logging camps, and is known to have worked for about twenty years while there was major commercial cutting in the Sparrow Lake and Severn River area.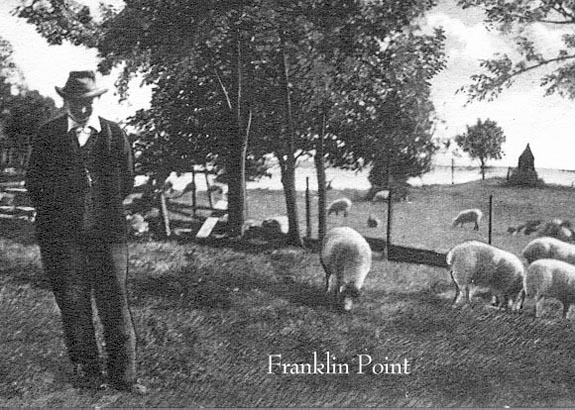 John and Annie had eleven children, eight born in England and three in Canada. The eldest daughter Ellen married Captain Tom Stanton and settled on the south shore of Sparrow Lake where they established Stanton House resort circa 1890 as a boarding house for hunters and fisherman. John Franklin died in 1917, aged 89 years, but the property remained in the family until about 1940. Beginning in 1905, Franklin House, a small resort with accommodation for about 40 guests was operated for close to 35 years by son and daughter William and Elizabeth Franklin. The original post and beam construction and solid wooden floors are now attractive features of the Silver Pines Restaurant with its screened-in patio, where modern diners enjoy the southwestern view and spectacular sunsets of Sparrow Lake.
Compiled by David Stanton.