The Sparrow Lake Historical Society is dedicated to preserving and promoting local history in the area of Sparrow Lake, Ontario. Drop-down links from the top headers on this page will take you to all the history of the lake and the Severn River waterway.
The annual Potluck Dinner and Fall Meeting of the Sparrow Lake Historical Society on September 29, 2018 featured a presentation by Ursel Soper on the early pioneers of Sparrow Lake from the letters of Kathinka Lehmann during the 1860s. We will be hosting a tour of the recent rebuild of the Wasdell Falls hydropower project as soon as a date can be arranged.
Summer 2018 Newsletter
Spring 2018 Newsletter
Summer 2017 Newsletter
Spring 2017 Newsletter
Summer 2016 Newsletter
Winter 2016 Newsletter
Summer 2015 Newsletter
Winter 2015 Newsletter
Sept 2014 Newsletter
April 2014 Newsletter
Sept 2013 Newsletter
April 2013 Newsletter
Sept 2012 Newsletter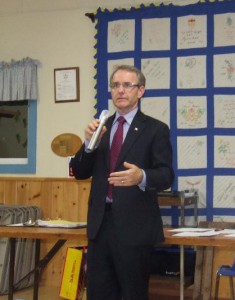 Photo at Left: Mnjikaning Elder Mark Douglas at SLHS meeting Sept. 27, 2014 speaks about the heritage of his First Nation at the narrows of Lake Simcoe and Lake Couchiching, national historic site of the 5000-year-old Fish Weirs, one of the oldest human developments in North America.
Photo at Right: Simcoe North MP Bruce Stanton gives a presentation about the Trent-Severn Waterway at a SLHS meeting Sept. 29, 2012.
Sparrow Lake Historical Society was established in 1984 by David Stanton and incorporated in 1992 as an affiliate member of the Ontario Historical Society. The purpose of the Society is to record and tell the local history of the lake and it's environs, from Severn Bridge to the east, the Big Chute to the west, and all the Severn River in between, concentrating on the early saga of the many summer resorts and lodges on Sparrow Lake and the pioneer families that established them.
Members and visitors enjoy informal meetings Spring, Summer and Fall with field trips to resorts and summer homes with historical significance. A memorial plaque was commissioned and dedicated by the Society on August 22, 1999 at Port Stanton to commemorate early pioneer Thomas Stanton and his wife Ellen Franklin who founded the village and contributed greatly to the early development of Ontario's tourist industry.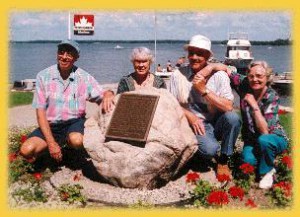 Donations of $15 or more will be acknowledged with annual membership to Sparrow Lake Historical Society.
Please forward website corrections and additions to webmaster Steve Stanton via email to stanton34(at)rogers.com.
Official Historical Society business can be addressed to President Sara Clipsham – saraclipsham(at)gmail.com.